This is the Earth First! Action Reports web site. If you've set-up a group, taken ecological direct action, or want to publicise campaigns or projects, please let everyone know. No matter how big or small it seems, we'd like to share your news and inspiration - click on 'submit report' and go to
story
.
January 22nd From June 20th to July 1st, locally well-known journalist and activist Will Parrish lived 50 feet above ground in a wick drain &l
January 20, 2014 - Germany The following is a summary of recent incidents in Germany reported on the Anti-Hunting Blog (animal rights activists may not be responsible for all of these incidents):
During the night of December 31 – January 1 we torched 2 vehicles used in development project in Southern Moscow. Security didn't expect us to show up as they were busy drinking themselves into oblivion at the guardhouse. So we used 2 jelly cans of gasoline and some rags to destroy unguarded machinery.
14th January 2014 Activists have blockaded the Maules Creek mine site at Boggabri in New South Wales, Australia, for three days now.<
Monday, January 13th, 2014 Achuar indigenous leader Segundo García Sandi began a hunger strike Jan. 7 to demand his freedom at Huayabamba prison in Iquitos, Peru. García Sandi was arrested Dec.
A human blockade at the end of Moss Lane has left a convoy of tankers backed up onto the A57.
Protectors have swarmed the vehicles and climbed on top. Come down to support and stop fracking at Barton Moss.
10th Jan 2014 via Corporate Watch Eleven anti-fracking campaigners have been found not guilty after a three day trial at Brighton Magistrate's Court.
8th of January - incendiary device on delay left at Kia car showroom, Lower Bristol Road, Bath. Damage to the building facade. A brand new 4-x-4 and three cars also consumed by the flames. A direct attack on exploitative manufacturing industries who profit from choking our world, who also make status symbols for our class enemies.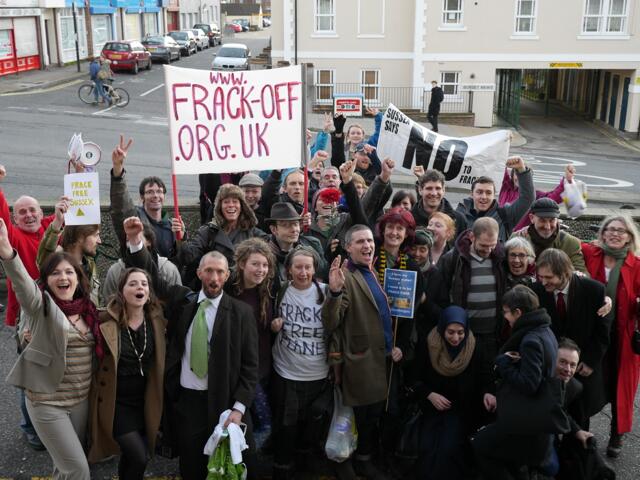 09 January 2014 People celebrate outside Brighton Magistrates Court after Balcombe protectors acquitted on all charges as a resul
We think that anyone serious about confronting domination as it stands today will sooner or later come to the questions of science and technology. It's clear how both have an increasingly vital role to the ruling order by creating, managing and spreading control within society and over the rest of an earth we're falsely separated from.
7/1/14
Update:
after a few hours the car was entered by police, lock-on removed and car towed.
--
Two people have locked-on inside a locked immobilised car at Barton Moss, stopping the truck convoy which includes drill bits and chemicals.