Rest of Europe
Rest of Europe
Climat Camp near Cologne, Germany starting tomorow got problems with the camp site.
For twenty years in mountains of North West Italy, not far from Torino, a powerful movement has grown that has resisted the Italian government's plan to build a high velocity railroad, which in addition to being very costly and economically useless would certainly destroy the mountain environment.
Since the first of Juli we (an action group from the Dutch Earth First!) have occupied a forest in Wilrijk, s
26 July 2013 Gerry Bourke – a farmer from Aughoose in County Mayo – is insisting he has no case to answer after being hit with a criminal damage and trespass charge in
23 July 2013 2 dolphins were set free from Yevpatoria dolphinarium as a result of special operation with diving equipment.
During the night of the full moon on 20/07/2013 we covered 2 km under water and breached security perimeter: we cut the nets and entered dolphin containment pools.
July 17, 2013 - Germany
reported anonymously: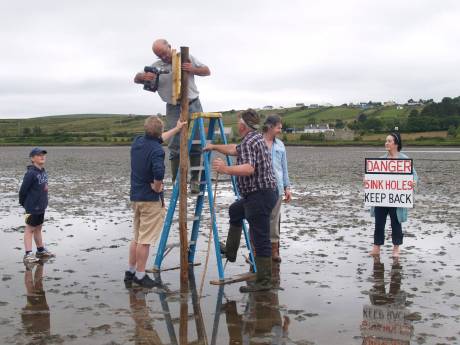 Yesterday (14th July), local residents and supporters raised signs on Sruwaddacon estuary, warning of the sinkholes that continue to appear over Shell's tunnel.
Since the first of Juli we have occupied a forest in Wilrijk, south of Antwerp in Belgium. It looks like it won't be a very long occupation, because the owner has already started all the procedures to kick us out and the police stops by at least once a day.
30 June 2013 Extra gardai are on duty in Co Mayo this weekend after violence broke out at a protest against the Shell gas pipeline last Sunday when a security guard had his arm badly injured and €150,000 worth of damage was done to machinery, writes Jim Cusack.