Anti-nuclear protest at Hinkley Point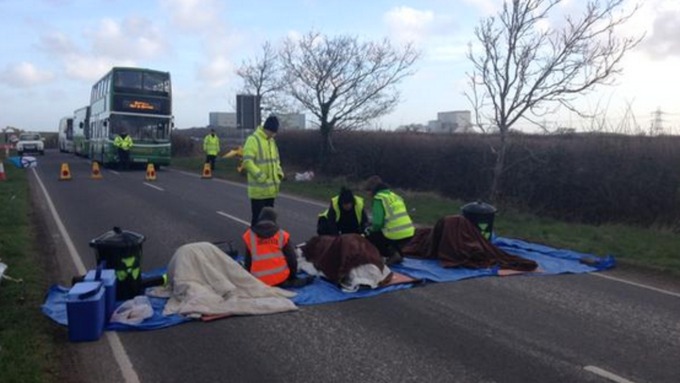 1 April 2015
Campaigners from South-west Against Nuclear, Nuclear Free Bristol & Bristol CND have today shutdown the EDF shutdown at Hinkley Point B in Somerset "We have come here today to carry out a citizen's shutdown. It is inconceivable that Anglo-French governments think they can get away with extending the life of reactors well past their designed life-time, we have chosen April fools day for our shutdown to highlight the fact that this is no joking matter"
At this moment Hinkley's reactor 4 is closed for work to extend it's lifetime – thousands of workers have been brought in at a cost of £40 million to electricity consumers. Green Party M.E.P Molly Scott Cato says "The estimated costs for prolonging the life of ageing nuclear power stations are almost certainly under estimates and will escalate, particularly against a backdrop of falling renewable energy costs. We need to ramp up renewable energy capacity as quickly as possible, not throw more money at keeping these ageing dinosaurs going. To do so will leave an even bigger legacy problem with mounting nuclear waste disposal costs well beyond the next 35 years. In reality we should actually extend the waste disposal costs for the next 1,000+ years to account for the true life costs!"[1]
Said Nuclear Free Bristol campaigner Jane Baker "This is throwing good money after bad on a worn out and dangerous reactor well past its retirement date. Plant Lifetime Extensions are a fool's game. We say the safest thing is to shut it down." All UK reactors are ageing and engineers know that machines have the highest risk of failure at the beginning and end of their lifetime [2]
Last year EDF who operate the gas cooled nuclear reactors in the UK moved the safety limits for loss of graphite in the core." Dorian Lucas, a nuclear specialist at energy consultancy, Inenco, said "Britain has no choice but to gamble with extending the safety limits of the country's ageing fleet of nuclear power plants to avoid the looming spectre of 1970s-style blackouts" [3] This is despite having been warned back in 2006 by independent Expert John Large of John Large & Assoicates that extending the life of Hinkley B would be "Gambling with Public safety" [4] Professor Steve Thomas of Greenwich University qestioned the Office for Nuclear Regulation's moving of the safety goal-posts [5]
Concerned citizen Pandora Swan of Southwest Against Nuclear asked "Since when is an uninterrupted electricity supply become more important than public safety? Besides Hinkley B is shutdown now & the lights are still on, a quick transition to energy efficiency and 100% renewables are what is needed for a supply of electricity that doesn't compromise on public safety"
On February 13th 2015, in Belgium the Nuclear Industry regulators found thousands of cracks in critical components at two of their reactors. Two leading material scientists said that the pervasive and unexpected cracking could be related to corrosion from normal operation, with potential implications for reactors worldwide. [6]
Just in case you think we're overstating the case – nuclear workers at plants across Sweden Belgium & France have raised concerns about privatisation of the industry & an apparent shift from zero-risk to calculated risks which they feel are unacceptable in the nuclear industry. [7] Many doing dangerous work in the industry are sub-contractors and so have no path of recourse when their health & safety is compromised by EDF.[8] Workers at EDF's Chinon plant in France were pressured by management not to report defects when inspecting reactors on their outages.[9] These concerns ultimately resulted in EDF workers going on hunger-strike on the ninth day the local community joined them & blockaded the plant for three days. This was claimed to be a consequence of the privatisation of the industry in France. With Areva going bust & EDFs finances looking very shaky, what pressure are EDF putting on their workers at Hinkley during this outage?
Says Rowland Dye of Bristol CND "In the U.S utilities are shutting down plants despite them having received permission to extend their lives"[10] Nuclear accidents are irreversible and uninsurable, causing devastation for generations and, to land air and sea. On average there is a major nuclear accident every 10 or 20 years, Not the rare event the industry likes to claim but that's ok because the industry are hard at work trying to persuade us that Nuclear accidents such as Chernobyl & Fukushima have no lasting consequences."
The risks of nuclear power are not necessary when we can produce electricity sustainably. Nuclear power provides less than 15% of the UK's electricity, and is easily replaceable by renewables.
https://southwestagainstnuclear.wordpress.com
***********************************ENDS****************************************
For Live Interviews Rowland Dye 07711214168
Notes to Editors
[1] – contact Molly Scott Cato's media office at media@mollymep.org.uk
[2] – Website dedicated to reliabbility engineering http://www.weibull.com/hotwire/issue21/hottopics21.htm
[3] – Utility Week 28th May 2014 http://www.utilityweek.co.uk/news/eti-seeks-small-scale-nuclear-reactor-proposals/1013232
[4] – John Large quoted in the Nu-clear News http://www.no2nuclearpower.org.uk/nuclearnews/NuClearNewsNo63.pdf
[5] – Professor Steve Thomas quoted in the Guardian http://www.theguardian.com/environment/2014/jun/04/uk-may-need-to-gamble-with-nuclear-safety-to-avoid-blackouts
[6] – Greenpeace International http://www.greenpeace.org/international/en/news/Blogs/nuclear-reaction/cracks-in-belgian-nuclear-reactors/blog/52139/
[7] – Nothing to Report A Documentary made in France but with English voice over & subtitles pt2 https://www.youtube.com/watch?v=Qh7kmfi-l7s
[8] – Nothing to Report A Documentary made in France but with English voice over & subtitles pt3 http://youtu.be/Kxx5HceTXBE
[9] – Nothing to Report A Documentary made in France but with English voice over & subtitles pt4 http://youtu.be/SmZQd0HTMOc
[10] – Nothing to Report A Documentary made in France but with English voice over & subtitles pt6 https://www.youtube.com/watch?v=L3PGv5QTO-k
[11] – NWISE Nuclear Monitor http://www.wiseinternational.org/node/4050